Ihr lieben Kekse,
nun ist es auch wieder soweit um einen Blick auf die Bücher zu schauen, wie im nächsten Monat erscheinen werden hihi
Zum Glück habe ich nächsten Monat Geburtstag, denn es befinden sich ziemlich viele Bücher auf meiner Wunschliste für den April haha
Insgesamt haben es 8 Bücher auf meine Wunschliste geschafft, und die möchte ich euch jetzt gerne vorstellen.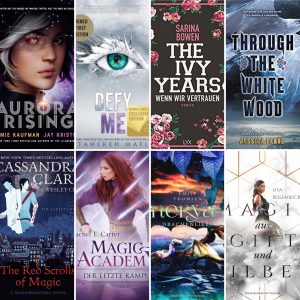 ---
"Defy me" Band 5 von Tahereh Mafi, erscheint am 02.04.2019
Juliette Ferrars isn't who she thinks she is.
Nothing in her world is what it seemed. She thought she'd finally defeated the Reestablishment. She thought she'd finally taken control of her life, her power, and her pain. But Juliette has only just begun to unravel a lifetime of lies, and she finds herself faced with a familiar choice: Be a weapon. Or be a warrior. 
This time, she's not alone. Stronger, braver, and more resilient than ever, Juliette will fight for life and love with her friends by her side—but first, she has to survive the war being waged against her mind:

She has to remember who she was.
---
"Magic Academy- Der letzte Kampf" von Rachel E. Carter, erscheint am 08.04.2019
Er ist der Schwarze Magier, sie eine Verräterin …

Riyahs Welt wurde für immer zerstört an jenem Tag, als König Blayne von Jerar sein wahres Gesicht zeigte. Nun zählt nur noch eines: die Rebellen zu unterstützen, ihre Familie zu schützen und den König zu Fall zu bringen. Selbst wenn das bedeutet, den mächtigsten Magier des Landes zu hintergehen, der geschworen hat, die Krone zu verteidigen und die Rebellen zu zerstören – Prinz Darren, der Bruder des Königs und Riyahs Mann…
---
" Through the white wood" von Jessica Leake, erscheint am 09.04.2019
When Katya loses control of her power to freeze, her villagers banish her to the palace of the terrifying Prince Sasha in Kiev. Expecting punishment, she is surprised to find instead that Sasha is just like her—with the ability to summon fire. Sasha offers Katya friendship and the chance to embrace her power rather than fear it.But outside the walls of Kiev, Sasha's enemies are organizing an army of people bent on taking over the entire world.

Together, Katya's and Sasha's powers are a fearsome weapon. But as their enemies draw nearer, will fire and frost be enough to save the world? Or will Katya and Sasha lose everything they hold dear?
---
" The red scrolls of magic" von Cassandra Clare, erscheint am 09.04.2019
 The Red Scrolls of Magic is a Shadowhunters novel. All Magnus Bane wanted was a vacation-a lavish trip across Europe with Alec Lightwood, the Shadowhunter who against all odds is finally his boyfriend. But as soon as the pair settles in Paris, an old friend arrives with news about a demon-worshipping cult called the Crimson Hand that is bent on causing chaos around the world. A cult that was apparently founded by Magnus himself. Years ago.
As a joke. Now Magnus and Alec must race across Europe to track down the Crimson Hand and its elusive new leader before the cult can cause any more damage. As if it wasn't bad enough that their romantic getaway has been sidetracked, demons are now dogging their every step, and it is becoming harder to tell friend from foe.
As their quest for answers becomes increasingly dire, Magnus and Alec will have to trust each other more than ever-even if it means revealing the secrets they've both been keeping.
---
" Magie aus Gift und Silber" von Lisa Rosenbecker, erscheint am 22.04.2019
Rya ist gefangen in einem Körper aus Stein.
Seit einer Ewigkeit fristet sie ein Dasein als Statue in einem Museum und beobachtet voller Neid das bunte Leben der Menschen.
Bis eines Tages Nick auftaucht, der sie hinter der Fassade aus Marmor spüren kann. Mit einem Kuss erweckt er Rya zum Leben und sie stolpert in eine Welt, die magischer ist, als sie es sich erträumt hat – und viel gefährlicher. Sie wird in einen uralten Krieg zwischen Gorgonen und den Nachfahren von Perseus hineingezogen, ohne zu ahnen, wie eng ihr Schicksal mit ihnen verknüpft ist. Während die Konturen von Gut und Böse verschwimmen, muss sie sich entscheiden: Will sie zu einer Heldin werden oder ihr Herz verlieren?
---
" The Ivy Years- Wenn wir vertrauen" von Sarina Bowen, erscheint am 29.04.2019
Kannst du auf dein Herz vertrauen, obwohl es gebrochen ist? 

Eine Nacht voller Leidenschaft haben Bella und Rafe zusammen verbracht. Und obwohl Bella spürt, dass die Zeit mit Rafe etwas ganz Besonderes war, traut sie sich nicht, ihren Gefühlen nachzugeben. Denn sie hat auf schmerzhafte Weise gelernt, ihr Herz gut zu schützen. Doch Rafe will die Verbindung, die zwischen ihnen herrscht, nicht aufgeben und versucht ihr zu beweisen, dass sie so viel mehr füreinander sein könnten. Aber da wird Bella Opfer einer Mobbingattacke, die sie dazu bringt, sich vor der ganzen Welt zu verstecken. Wird es Rafe jemals gelingen, ihr Vertrauen zu gewinnen?
---
" Aurora Rising" von Jay Kristoff & Amie Kaufman, erscheint am 30.04.2019
The year is 2380, and the graduating cadets of Aurora Academy are being assigned their first missions. Star pupil Tyler Jones is ready to recruit the squad of his dreams, but his own boneheaded heroism sees him stuck with the dregs nobody else in the Academy would touch . . .

A cocky diplomat with a black belt in sarcasm
A sociopath scientist with a fondness for shooting her bunkmates 
A smart-ass techwiz with the galaxy's biggest chip on his shoulder
An alien warrior with anger management issues
A tomboy pilot who's totally not into him, in case you were wondering

And Ty's squad isn't even his biggest problem–that'd be Aurora Jie-Lin O'Malley, the girl he's just rescued from interdimensional space. Trapped in cryo-sleep for two centuries, Auri is a girl out of time and out of her depth. But she could be the catalyst that starts a war millions of years in the making, and Tyler's squad of losers, discipline-cases and misfits might just be the last hope for the entire galaxy.
NOBODY PANIC.
---
" Flerya- Drachenliebe" Band 2 von Emily Thomsen, erscheint im April


Flerya fällt es schwer, sich in dem für sie unbekannten Leben als Drachenprinzessin zurechtzufinden. Ihr gelingt es nicht, Nähe zu ihrem Vater, König Gardorath, aufzubauen und sie beginnt sich zu fragen, ob sie nach Yadirans Verrat je wieder vertrauen kann. In der Zwischenzeit erstarkt die Ghulkönigin zu neuer Macht und bedroht mit ihren seelenlosen Heeren das freie Leben Emireschas. Ihr Schlachtenlenker Yadiran ist entschlossener denn je, die Drachen zu töten. Indessen der Krieg mit ganzer Grausamkeit über das Land hereinbricht, liegt das Schicksal aller Völker bei Flerya und ihrer Bereitschaft, dem Mann zu vergeben, der ihr nach dem Leben trachtet.
---
Auf welche Neuerscheinung freut ihr euch am meisten?
Was steht noch für den Monat April auf eurer Wunschliste?
Eure Jenny <3